How to heal a mountain
Witness winter's restorative power at Mount Major
"Unusual hiking" is more than just a bunch of physical venues where you can go for a great hike. Timing can be the difference between a standard issue hiking experience, and the sort of ramble that earns you skepticism from onlookers. For years, I've tried inviting friends to go and poke around Cape Cod during mud season, when the soggy shores are bursting with musky aromas and the sounds of new life, and the looks I've gotten are the sort of looks I might give a friend who suggested experimenting with cannibalism. Even iconic hiking destinations can have this rigid seasonal currency.

There's a rather tragic example of this in central New Hampshire. Those of you who've spent any time on Lake Winnipesaukee—say…boating around with Mitt Romney—are probably familiar with Mount Major. Looming over Old Winny (that's not the lake's actual nickname: I just made it up), this 1,786-foot peak has historically been used as a natural observation deck for Lake Winnipesaukee. If you're used to experiencing a body of water from ground level, the chance to take in a god's eye perspective of the waterscape is irresistible. And since the trails to the top of Mount Major fall within the moderate range of New England hiking, Mount Major gets a lot of visitors each summer and fall, and the mountain takes a beating. Trails are often strewn with litter, and graffiti has appeared on summit rocks. Volunteers from New Hampshire trail stewardship groups gather several times each year to remove the trash and the spray paint. But still, it's a literal uphill battle that just seems to escalate every summer.

If you want to experience Mount Major in a more peaceful, unadulterated form, the time to go there is winter, when the besieged mountain is covered in snow and ice.

It's estimated that more than 80,000 people climb Mount Major each year, and you have to wonder why trash and desecration have become such a problem with this mountain—especially given the immense popularity of the nearby White Mountain National Forest. My speculative take is that when you've got a tourism destination that's a lake town first and a hiking venue second or third, the tenets of Leave No Trace are not going to be as present and culturally normalized. (This could partially explain why the Leave No Trace Center for Outdoor Ethics selected Mount Major as one of its 19 national "Hot Spots" for classes and training.) In other words, if trails become the lure for a destination like Lake Winnipesaukee, maybe a better standard of trail use will follow. But for now, the restorative work of volunteers and the natural "healing" power of winter serve as something of an annual reset for Mount Major.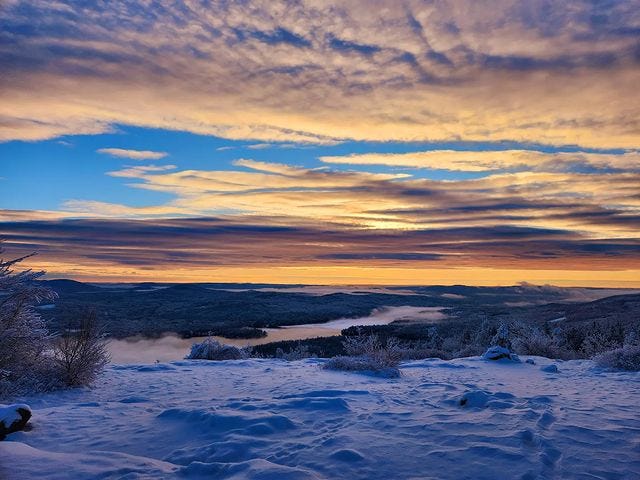 Seeing Mount Major in its untarnished, snowy form makes the mountain a winter hike worth taking. But this is also a stellar gateway hike for anyone who's just getting into winter climbing. On the 3.6-mile Brook Trail and Main Trail loop, you'll gain 1,148 feet of vertical elevation at a mostly moderate grade. The trail grows steeper once you approach the summit, but you won't be dealing with the kind of sheer, ice glazed terrain that requires axes or grabbing onto frozen tree limbs. (If that is what you're seeking, the Air Line Trail to Mount Adams is always beckoning.) You will definitely want a pair of traction devices for your boots to scale Mount Major during the winter: at a minimum, Yaktrax, but preferably a set of MICROspikes, which are essentially baby crampons that will keep your feet glued to packed snow or ice like magnets.
When you set off from the parking lot and begin to huff your way up Mount Major's northeast haunch, be ready to encounter multiple forms of winterized terrain. Snow can be hardened, powdery, or during a strangely balmy winter like this one, slushy. And it's the soft, slushy snow that can be the trickiest to negotiate when climbing a mountain in the winter. That's because slushy snow can give way under your boots, causing you to take a sudden spill. On level or gently-graded ground, this is rarely a big deal. But on steeper inclines where taking a spill could mean tumbling down the trail, slush can be a real problem. I learned this the hard way several winters ago in North Conway, while taking the Bryce Path to Cathedral Ledge. I reached a point in the middle of the ludicrously steep switchbacks where the slushy ground ahead looked seriously unstable. But at this point, I had climbed too high to backtrack safely. So I made my way to the top of the trail by slopping onto my belly and grabbing at tree branches and exposed rocks, finding dodgy footholds and inching forward like a beached whale. Each time the snow shifted under my boots, I let out a little shriek.
You won't have to deal with anything this severe on Mount Major, though you should consider bringing trekking poles for added stability. As a rule of thumb, maintaining three points of contact with the ground will keep you in a more secure position when scaling or descending inclined terrain, and hiking with poles will allow you to do this. On that note, if Mount Major is one of your first winter mountain hikes, I recommend taking the Main Trail to the summit and the somewhat more gradual Brook Trail back to the parking area. Momentum can work in your favor when you're descending any mountain, but one slip is all it takes to invert that relationship. Even after decades of hiking and mountain climbing, I will almost always choose the least steep option for the return journey. Plus, when you're descending a more modestly graded trail, you can spend more time appreciating partial views or any curiosities alongside the trail.
Without the generous support of readers, Mind the Moss would not exist. For the monthly price of a cheap beer, you can support the future of this newsletter and in return, you'll get access to every newsletter and podcast AND custom hiking ideas for your next New England trip!
On a clear day, the windswept summit of Mount Major offers a panoramic view of not just Winnipesaukee, but also Squam Lake and the White Mountains. And depending on how much snow has accumulated there, you might also see the stone foundation of Phippen's Hut. This rudimentary hut was built by George Phippen, who bought the summit of Mount Major from the Town of Alton in 1914. For only $125. Thankfully, Mr. Phippen kept the summit open to the public, before returning the land to Alton several years later.. But still, imagine owning a mountain. It sounds like a Herzogian recipe for madness. And if Phippen still owned the top of Mount Major, with summer crowds routinely trashing the mountain, would the summit still be open to all of us?

I'm optimistic about the odds of Mount Major healing more permanently in the future, between the growing popularity of hiking, and the volunteerism of organizations such as the Society for the Protection of New Hampshire Forests. But for now, the annual blanketing of snow that New Hampshire experiences each winter has its own special way of helping to make things right. The mountain is recuperating. Go pay it a visit.

Mount Major via the Main Trail and Brook Trail
Hike distance: 3.6-mile loop
Elevation gain: 1,148 feet
CLICK HERE for a trail map